Did the Poor Get Left Behind by the Health MDGs?
One question that is often asked is whether the focus on population averages in the MDGs resulted in the poor being left behind.1 The HEFPI dataset allows us to answer this with some precision.2
Inequalities in MDG indicators
The HEFPI database has often been used to look at gaps receipt of key MCH interventions and MCH outcomes between different wealth quintiles. Fig 2 shows how immunization varies by quintile – sometimes quite dramatically – within countries: the gap is especially pronounced in Ghana where, in 1993, the immunization rate of the poorest fifth of children was just 16% while the rate among the richest fifth of children (65%) was equal to the immunization rate of the poorest fifth of children in Kenya.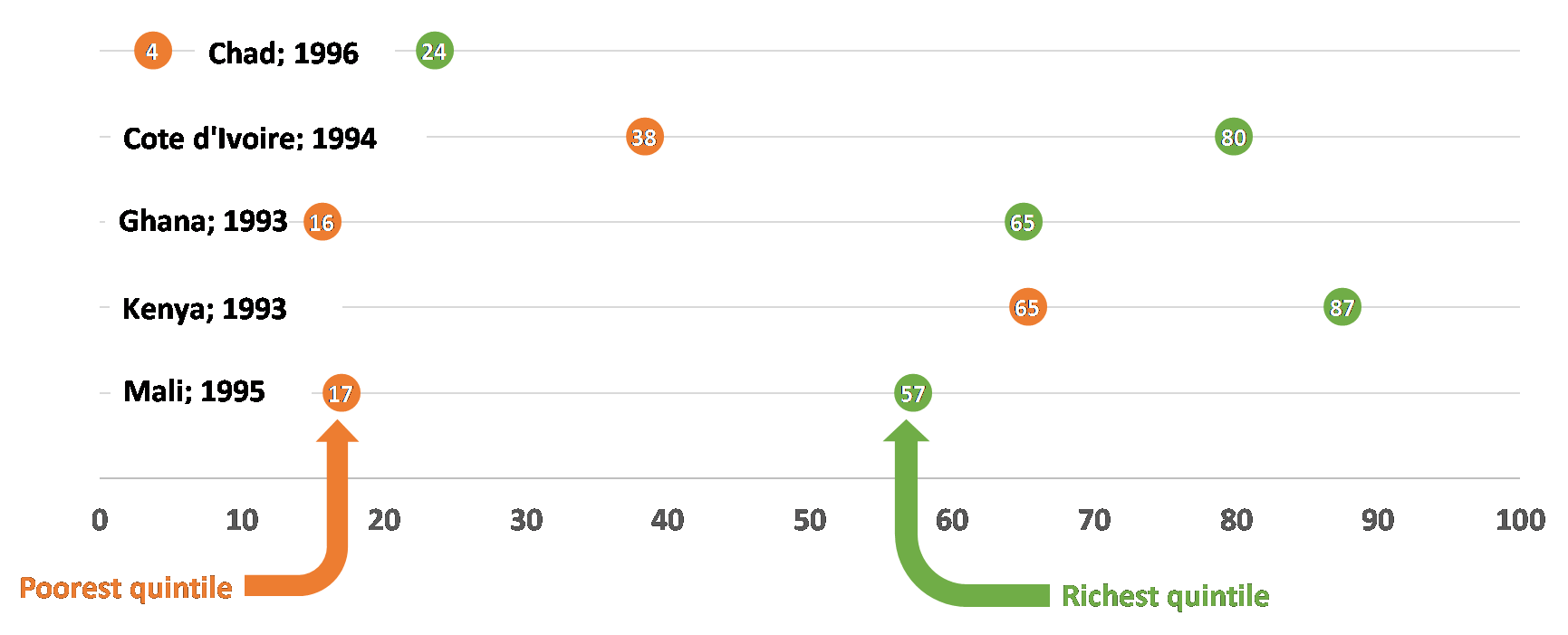 Trends in inequalities in MDG outcomes
How have inequalities changed over time? Did the poor get left behind? Fig 2 shows changes in inequality for several key MCH indicators. In the case of immunization, the progress is minimal for the richest 20% of children, while the progress has been substantial for the poorest 20%. For antenatal care (ANC) and skilled birth attendance (SBA), by contrast, progress has been appreciable for the poorest and richest quintiles. Overall, the poor have made substantial progress – often more than the better-off.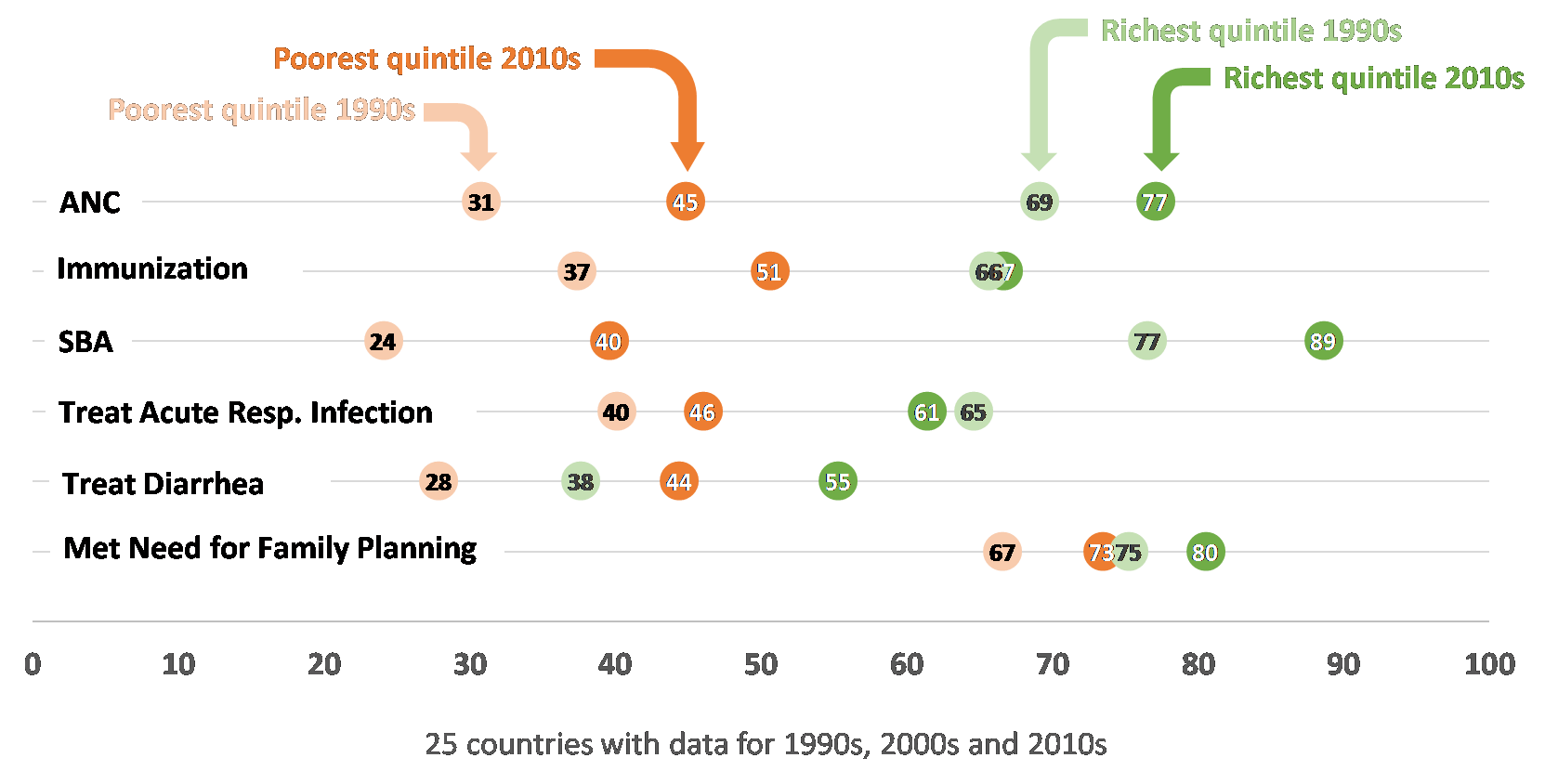 What of trends in outcomes? Fig 3 shows changes in inequalities in key MNCH outcomes. The gap between the poor and better off has shrunk visibly in the case of infant- and under-five mortality. In the case of underweight and stunting, by contrast, the rich have also seen substantial reductions, and the gap has closed much less. Progress on reducing inequality in outcomes has not been as great as progress on reducing inequalities in interventions.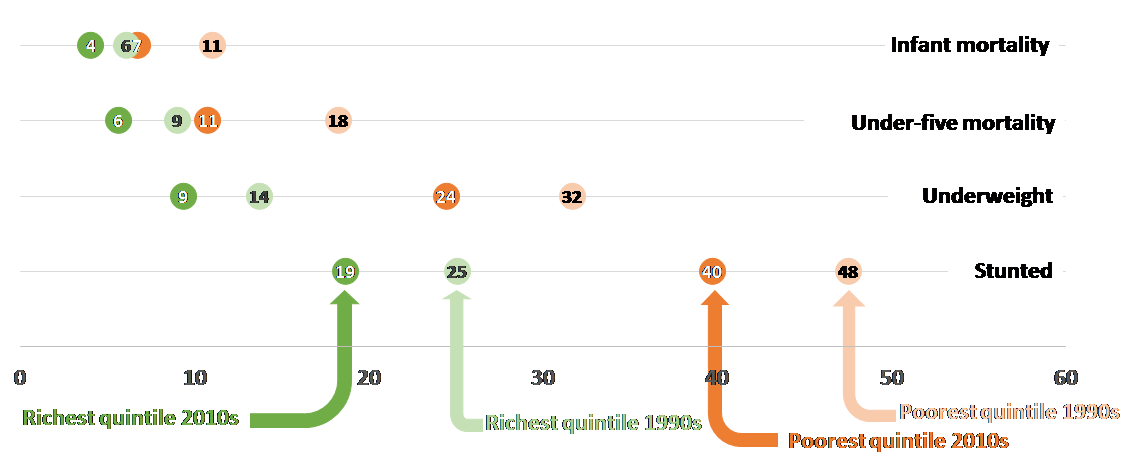 References