Tracking Progress Towards UHC Using the HEFPI Database
The idea underlying Universal Health Coverage (UHC) is that everyone, irrespective of their means, receives the health services they need, without suffering financial hardship in the process.1 Monitoring progress towards UHC requires that we decide on a set of health services to track receipt of, and a measure of financial hardship associated with out-of-pocket health expenses. We also need to decide how to aggregate the selected services into an index of service coverage, and how to trade off this index of service coverage against our chosen measure of financial protection to get an overall UHC index score.
In a couple of papers,2, 3 we suggested how this might be done, constructing a UHC index for 9 of the 20 countries of Latin America, and 14 of the 24 countries covered by the Bank's UNICO project.4 Here we use essentially the same methods to construct a UHC index for over 80 countries using the 2018 HEFPI database.
Service coverage
We selected 4 indicators for preventive services, and 4 for treatment:
Prevention

Antenatal care (4+ visits)
Immunization (full)
Mammogram (women aged 50-69, last 2 years)
PAP smear (women aged 30-49, last 5 years)
Treatment

Skilled birth attendance
Treatment of ARI among children
Treatment of diarrhea among children
Inpatient admission in last year
Indicators 1, 2, 5, 6 and 7 are in the composite coverage index (CCI) developed by the Countdown to 2015 for Maternal, Newborn, and Child Survival.5
Indicators 3 and 4 broaden the scope of the exercise out beyond MCH indicators to get at concerns over NCDs; both are defined in line with WHO guidelines.
Indicator 8 reflects a concern that has driven much of the UHC debate – that especially in low- and middle-income countries, the cost and non-availability of hospital facilities means that some people who need inpatient care do not get it. Unlike the other indicators, medical 'need' is hard to assess for inpatient care at the individual level ex post through a survey. But WHO has proposed a benchmark at the country level for inpatient admissions per capita; this translates into a benchmark of just over 9 for our indicator, which we scale (at the national and group level) to be 100 for values above the WHO benchmark, and a percent of the benchmark otherwise.
Fig 1 shows how countries at different income levels fare on these indicators. Unsurprisingly, coverage levels are higher in countries at higher income levels. High-income countries have achieved essentially universal coverage on all but the two cancer screening indicators. Fig 1 also shows how Thailand and Zimbabwe fare better than their peers on most indicators.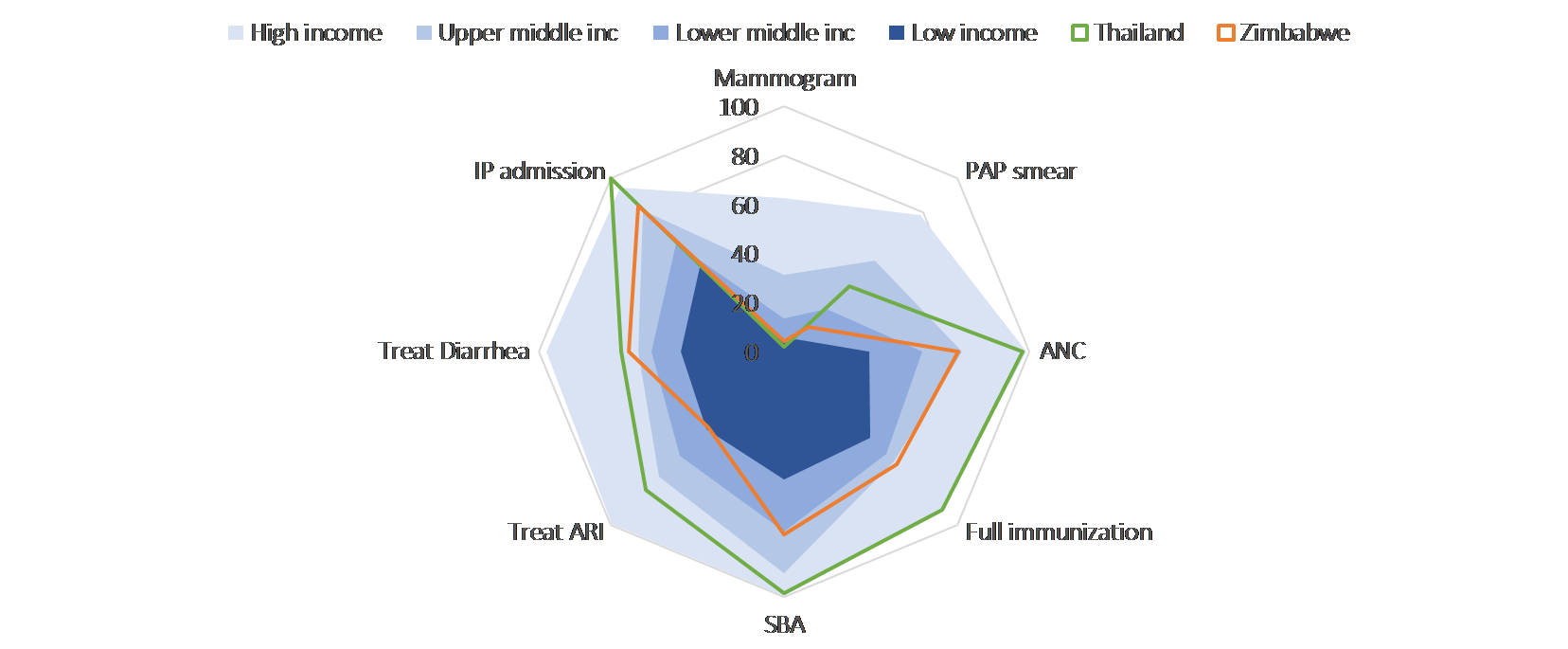 A key issue in UHC is how different groups fare – policymakers may think it matters more if it is the poor who are left behind when coverage is not 100%. Fig 2 shows the gaps within and across countries in inpatient admissions and PAP smears. In high-income countries, it is the poor who are more likely to be admitted to hospital, while in low-income countries it is the rich. But even the rich in low-income countries are admitted at a rate that is well below the WHO benchmark. In high and low-income countries, PAP smears show the same upward gradient – what is more striking is how far behind their high-income country peers all groups within low-income countries are.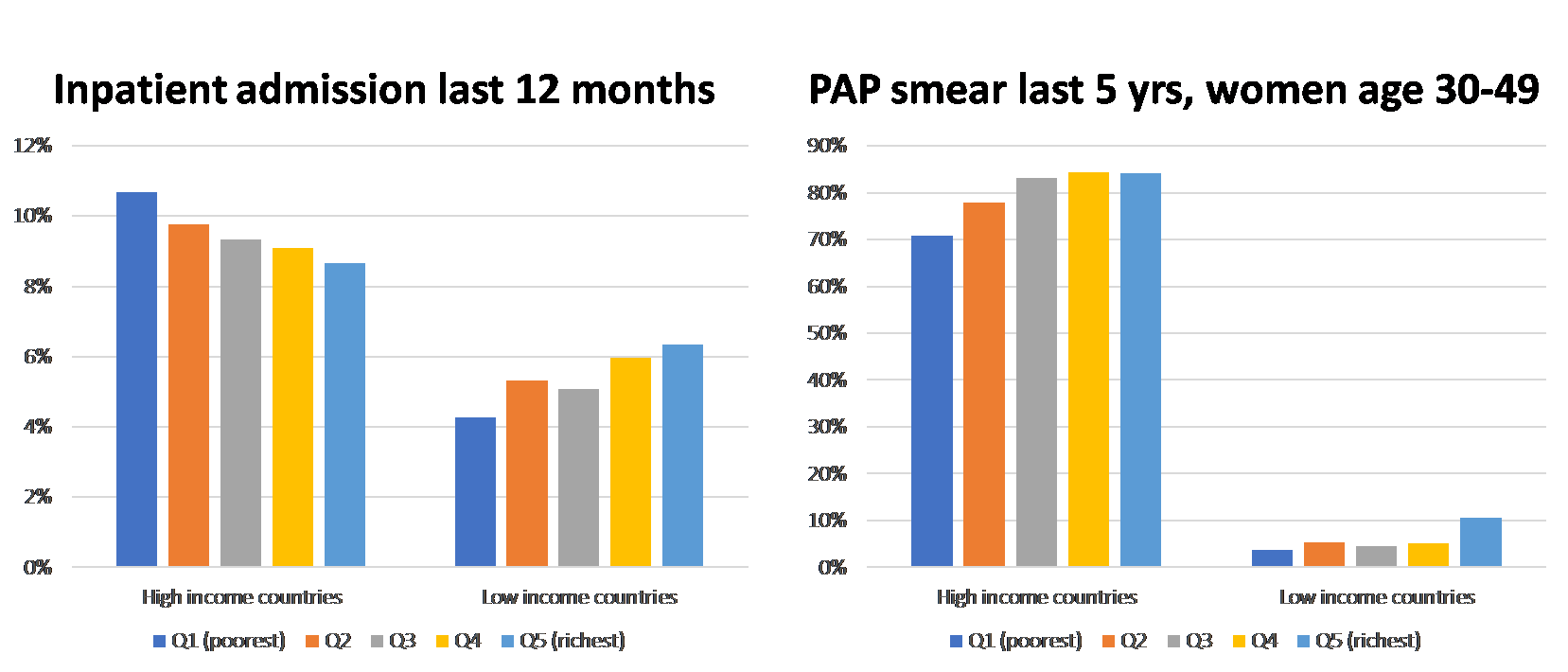 Financial protection
The two most widely used indicators of financial protection in health are the incidence of catastrophic expenses (expenses exceeding a specific fraction of income or consumption) and the incidence of impoverishing expenses (expenses pushing a household below the poverty line).7, 8 For the present illustration, we use the former, setting the threshold at 10% of consumption or (in high-income countries) income. Fig 3 shows the large variation across countries in the incidence of catastrophic health expenses.
Fig 3: International variation in the incidence catastrophic expenses at a 10% threshold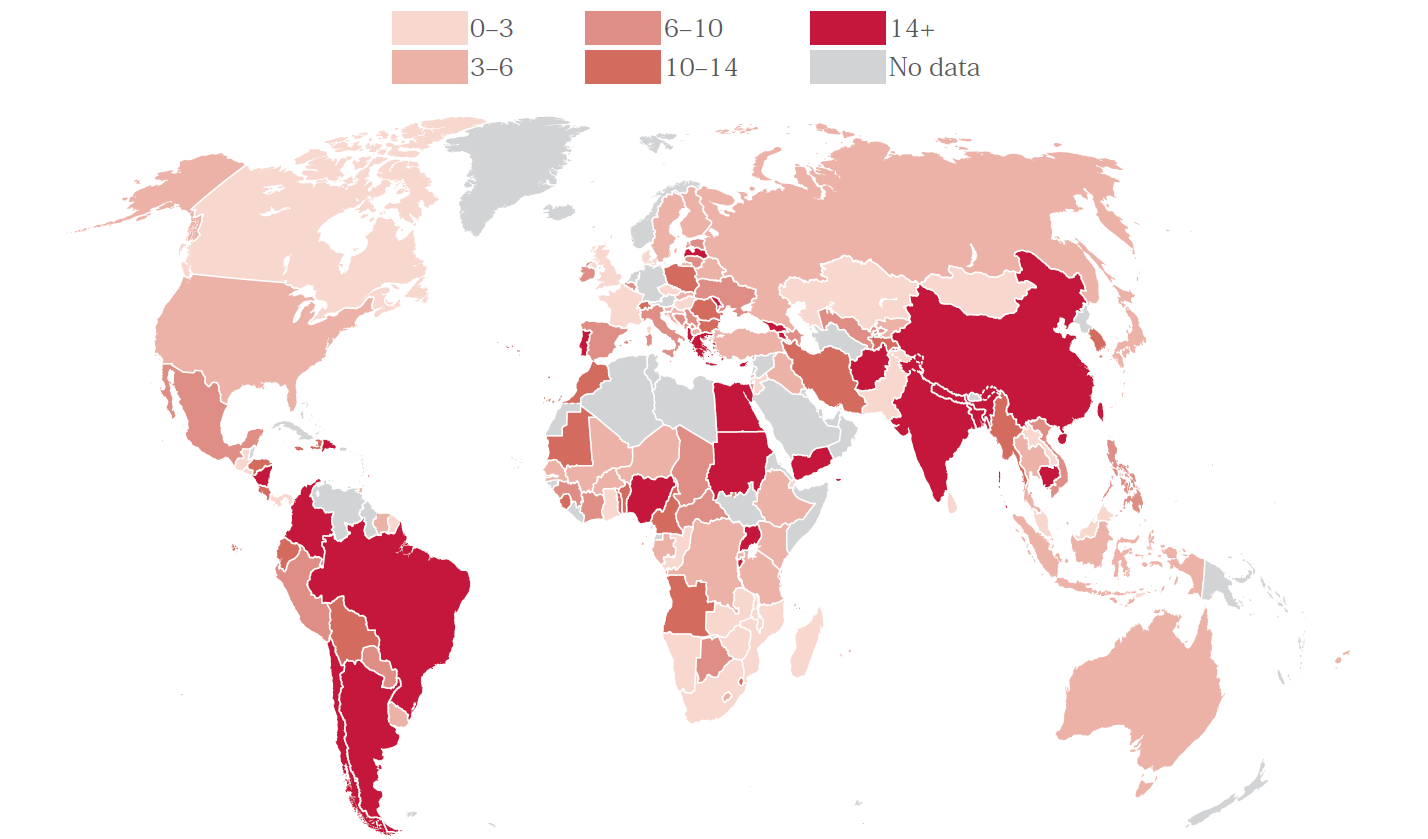 Putting service coverage and financial protection together in a UHC index
To get a sense of how far countries are from UHC, we combine the 8 service indicators into a service coverage index, then combine the service coverage index with (the complement of) the incidence of catastrophic expenses – see Fig 4. Throughout we use weighted geometric averages. We weight the 4 prevention indicators equally. Within the treatment domain, we attach a 50% weight to inpatient admissions, and weight the other 3 indicators equally. Within the service coverage dimension, we weight the prevention domain 25% and the treatment domain 75%. Finally, we weight service coverage and financial protection equally.

We can plot service coverage against the incidence of catastrophic payments as in Fig 5, and superimpose UHC "contours" that show common levels of the UHC index. Unsurprisingly, the UHC index tends to fall as we move down the income groups. But there are positive deviants. Croatia, for example, is up among the high-income countries despite being only an upper middle-income country. Malaysia has a score of 90 even though it is only a lower middle-income country. The scatter plot also shows how countries can end up with the same UHC index value by doing differently on the two dimensions of UHC. Compare, for example, Thailand and Colombia, both of which have a score of 80 but Colombia trades off higher service coverage against worse financial protection.